09-Oct-2918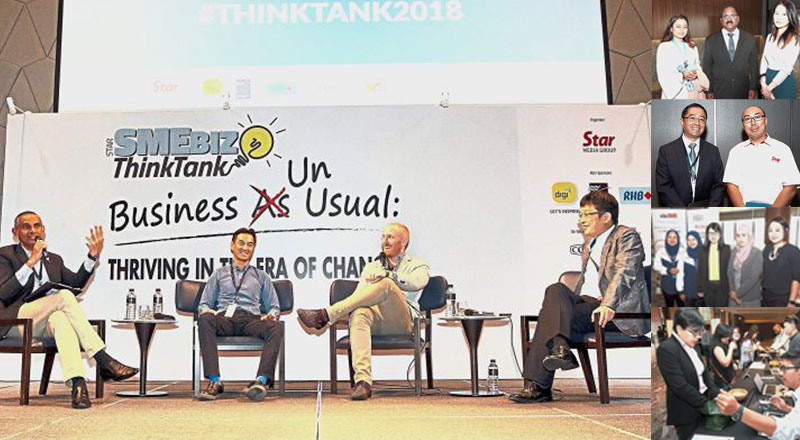 ---
OWNERS of Malaysia's small- and medium enterprises (SMEs) are embracing a digital future in the hope of becoming more competitive for long-term advancement in the marketplace and being able to meet the ever-changing needs of customers.
Accenture (Malaysia) country managing director Azwan Baharuddin said the importance of digital transformation for SMEs in their processes and the handling of their trade would better position the companies for long-term growth.
"Opportunities abound for those who have taken the initiative to digitalise.
"At first, SMEs might feel apprehensive as their companies choose to digitalise existing business practices, but they must adapt and evolve with market changes in order to provide customers with better services," he said in his keynote address at the SMEBiz Think Tank conference organised by Star Media Group.
Chartered Accountants firm Morison AAC managing partner Sathiea Seelean Manickam, a participant who attended the one-day conference, said the panel discussions provided insight into the need for businesses to adapt with the aim of serving customers better while having an edge in this digital economy.
"Discussions like this is good for SMEs and even for new startups as the exchange of ideas enlighten business owners to rethink their approach in serving customers.
"It also enabled me to network with fellow businessmen and those in the accounting field," he added.
The conference titled "Business Unusual: Thriving in the Era of Change", focused mainly on how local SMEs can ride the wave of digital revolution to their benefit in this modern era of innovation.
Allied Aeronautics Training Centre Sdn Bhd finance head Khadijah Asy Syifaa Amirhamzah, whose company is involved in air craft maintenance training, said she wanted to seek out business prospects and saw the conference as a platform for networking.
"I believe most participants had a quick understanding of business trends, issues and opportunities. For me, I was awed with new business trends and the need for a swift digital transformation," she said.
KPMG Deal Advisory Sdn Bhd transaction services manager Jocelyn Chong, who is involved in tax advisory services, said her participation in the conference was to get a feel of the market.

"I am glad to have attended the event, as it has allowed me to think about optimising the business data we have and making it connect with customers to better serve their wants and needs," she added.
Malaysia External Trade Development Corporation (Matrade) deputy chief executive officer Sharimahton Mat Saleh, who addressed the participants, explained the procedures involved in exporting and assured businesses that Matrade was in support of entrepreneurs wanting to sell their products overseas.

"Our officers at Matrade understand that for trade to succeed, information from across the business must be able to flow through different means, seamlessly.
"We at Matrade want to offer help to simplify and streamline your business that can allow enterprises to be more effective," she told participants.
Azwan said collaboration was key and SMEs should look into how best to come together and develop on each other's strength to move forward. But, he added, it required a big change in mindset.
The conference featured 13 industry experts who discussed issues related to SMEs over seven sessions.
Panel discussions were held on various topics – Disruption in the SME market, SME's readiness towards E-Payment, The power of data – monetising data and From traditional to digital.
The event is an extension of The Star Outstanding Business Award (SOBA), which has now entered its ninth consecutive year to recognise, honour and reward outstanding non-public listed companies and SMEs in the fields of marketing, branding, CSR, green initiative, employer, innovation, global market, technology, entrepreneurship and more.
SMEBiz Think Tank is organised by Star Media Group with Digi, PKT Logistics Group Sdn Bhd and RHB Bank Bhd as main sponsor, Credit Guarantee Corporation as co-sponsor, Matrade as official trade promotion partner and New World Petaling Jaya Hotel as the official venue. For details on SOBA 2018, call Star Events Business Unit at 03-7967 1388 ext 1233 (Christine) or 1857 (Pei Wen).
Source: thestar.com
Photo Courtesy: thestar.com